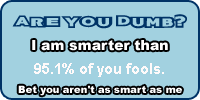 Am-I-Dumb.com -
Intelligence Test
That was some game last night. It's nice having these nights off in between games...I can stay up until two a.m. one night, go to bed at eight the next...all in preparation for staying up until two a.m. on Saturday and Sunday. Way to start the work week.
I must make sure I do plenty of laundry because apparently I was watching too much of the 2nd, 3rd and 4th games. Last night I would go and fold clothes during the commercials and come upstairs midway through the first batter. So, if you need some laundry done...
Not that I'm superstitious or anything.